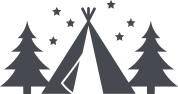 Fish and Explore
Summer Camps
Fish and Explore camps are fun, and to keep them that way we focus on exploring the outdoors safely.
Campers will wear lifejackets when in the water or on a boat, and practice catch and release practices
when interacting with wildlife. Our child to counselor ratio is 1:4 in our fishing programs, and 1:6 in all
others, to ensure each child the most attention and supervision when learning through our camps.
Explore Summer Camps